I've often wondered what is the perfect drivetrain for conditions like Cambodia. Hot and dusty during the dry season and wet and muddy during the rainy season. Many of the bikes used at COSI Orphanage disintegrate under such hash conditions, with a reported life span of 6-8 months of regular use with the traditional chain/sprockets drive system.
On my last trip, I was fascinated when I came across a
Bridgestone Albelt
bicycle when the kids were playing. It was parked non-descript with the other bikes and what caught my eye was that it had no chain. Instead, it uses a belt system cleverly matched to a 3 speed Nexus hub.

The belt system is not new to the world of foldies and the Strida, designed by Mark Sanders, incorporates it from day one since 1987. Its benefits - greaseless, maintenance free and quiet in operation, seemed perfect for the Cambodian conditions.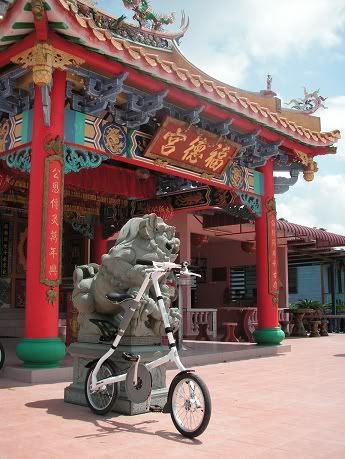 Lion riding a Strida - seems that way from this pic!

I didn't have the chance to take the Bridgestone Albelt for a ride but I would stick my head out to say this is much more suitable for the the kids at COSI. Sure, it won't give the direct feel or power delivery system of a traditional system and may squeak a little from time to time, judging from my 1 year ownership experience of a Strida. However, I will postulate that when dust and mud are part of your daily riding experience, this is the obvious choice. Even better if its fully enclosed.

Harsh but serendipitously beautiful - the Cambodian countryside.