Pic KC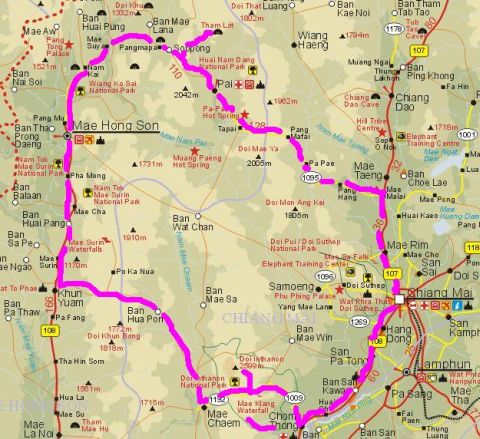 The Mae Hong Son Loop is one of the "must-do" for any serious touring cyclist as it is not just beautiful but extremely challenging with a myriad of mountain ranges to scale and descend. Situated at the North West corner of Thailand bordering Myanmar, it has been calling out to me since I first visited this region some 10 years ago in a car. Though I have cycled half-way clockwise from MHS to Chiang Mai and scootered through the loop twice, the challenge to actually do it on a bicycle has largely been unanswered until now. When one turns 55, there is an urgent sense to quickly tick off our Bucket List and that was precisely what I did from 14 - 28 Dec 2017.
Hence, our route was to be clockwise starting with a short diversion to Samoeng from Chiang Mai, then joining the 1095 at Pa Pee all the way to Khun Yuam. There we head towards Mae Chaem and back through Mae Win. These back roads are usually quieter and full of surprises.
Planning this 600km route was not difficult as I have been through most of the towns but trying to book and confirm hotels especially during this super peak Christmas season took a lot of patience. I booked as early as 8 months ago. Trying to form a team as well was challenging and we finally had one of 10 after a 50% drop out rate due to all sorts of understandable and unforeseen reasons. Even then at the last minute, our team of 10 consisted only of 6 cyclists - Lance, Sinn Tail, KC, Wayne, Loh and myself for Part 1 and the addition of Celia for Part 2 where Loh dropped out at Mae Hong Son due to an earlier crash. YC kindly volunteered to be the driver (and stand in cyclist) for our rented pick up truck aptly named "Mothership" which we got for 1000b a day from North Rental. It was also good that he brought along his sons Wayne and Mark.
We had a good mix of different bicycles - a Giant road bike, an MTB, a Surly Troll, a Hasa Titanium MTB/Tourer, a Co-motion Touring bike, a Bike Friday Pocket - the only folding bike and my brand new Marin 4 Corners Gravel/Touring bike.
LTF tours have always been self supported until now and for good reason. George had a non-cycling accident 2 months ago and suffered from head injury. Though recovering, he was not able to cycle but we still wanted him and his wife Wendy to be a part of our team and hence the "MS". This proved to be the best decision we made as it meant we could cycle without panniers, could take our 2 injured cyclists to hospital, enabled us to do sightseeing and provided transportation for some of us when the terrain was too tough or when time ran out. George too was our Chief Mechanic as well as Chief Packer and Chief Jaga (doorman), roles which he excelled in!
We decided to arrive 2 days earlier at Chiang Mai, flying Thai Airways, so that we could take our time to sort ourselves and prepare for the trip. Best transport out of the airport is by Songthaew, which is a covered pick up truck that can easily swallow 4 bike boxes. We paid 250B for the 4 of us, which is a bit higher than the normal 200B but that is still US$7 in total.
Pic KC
When bikes are transported by air, all sorts of unexpected things can happened and it did. Loh's Co-Motion arrived with a warped front disc which had to be replaced earlier. Chris Wee our Thailand expert recommended Bruuns Guesthouse situated at the Top Right corner of the CM Gate and for 590b per night, it was described by Loh (who came 2 days earlier) as one of the best guesthouse he has ever stayed in. Very bike friendly too as it also had a place for us to store our bike boxes, clean rooms with ensuite, aircon, fridge, cold aircon and most of all, a very accommodating and friendly manager in Mr Wat.
Chiang Mai has always held a special attraction for me and this truly special city in the winter months of Dec & Jan has the most pleasant climate of 26-28c days and 16-18c nights with very low humidity. It boasts of amazing restaurants, vibrant night markets, great shopping, local food stalls, friendly people and just a nice relaxed atmosphere.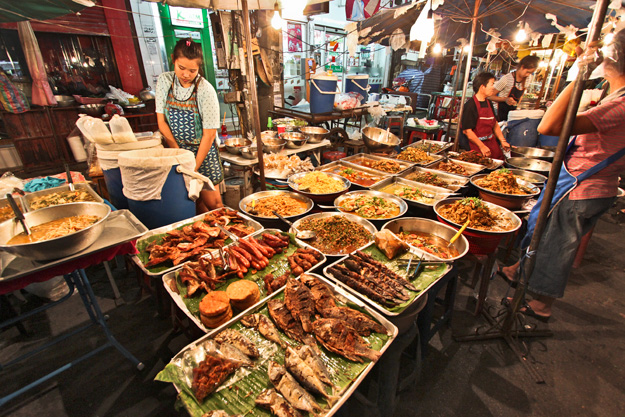 Pic - Holeinadonut.com
For us cyclists, Chiang Mai is also blessed with some very good bike shops particularly Lek's which is literally like Ali Baba's cave for bike parts and accessories. Bring a torch as the cave is rather dark and some mosquito repellent too.
Pics KC
Another famous shop is
Triple Cats
, a dedicated very professional bike shop catered for tourers which we visited and emptied our wallets willingly. This is like the unofficial HQ for International Tourers for N Thailand.
Pics KC
I told myself that if I were to finished this loop successfully, I would reward myself with a Surly Disc Trucker from Triple Cats. Our Lord's stars seem aligned as Nu, the friendly and knowledgeable owner, happened to have my 46cm size as well and offered me a very attractive price and package.
Nothing to motivate me to finish this loop than such a prized bicycle! Let's go touring.