Pic KC
Pic KC
Pic KC
Pic KC
Bryde's Resort proved to be very comfortable and having slept very well, I woke up early feeling fresh, able to catch the sunrise. A walk on the deserted Chao Samran beach this early morning was really good for the soul as I reflected upon God's faithfulness and goodness, which is like every sunrise. Sure and dependable. My only company were the beach dogs who were busy playing among themselves. This is as peaceful as it gets. YC soon appeared but I think he was more interested to catch Pokemon.
Our destination today was Hua Hin, some 70km away and we could start off a little later. No hurry whatsoever as our distance was very manageable. We set off at about 8am and rode in search of breakfast. This stretch of beach has many interesting hotels including one that has a WW 2 Dakota DC 3 plane as a display painted in pink!
Pic KC
Riding along, keeping our eyes peeled for a possible breakfast stop was not easy as the whole place was still in dream land. Fortunately, I spotted a Muslim eatery that offered all the wonderful Thai rice dishes and it was an obvious stop. While waiting for our food, Sue taught us the finer points of posing - the need to stand with an "S" so YC and I practiced hard. Not sure if we passed!
Pic KC
VT and I settled for my favourite Thai one dish rice plate, Khao Khlook Gapbi, which got a thumbs up rating from LTF Director of Food, VT. It is truly yummy with so many spices thrown in like mango, shallots, peanuts, eggs, chilies, long beans, marinated chicken etc over rice seasoned with shrimp paste. A truly
fascinating dish
that deserves a try! Our total breakfast meal turned out to be less than US$1.50 each!
Chao Samran's main beach was obviously very popular as they had a stage all fixed up and we can just imagine the parties that fill this place during the weekends. The girls took this opportunity to do their morning warm ups in unity there, and was quite successful!
Pic KC
Our ride this morning had near perfect weather with cloudy skies. The road south towards Cha'am was pretty quiet, very little traffic and and we made good speed. YC and I wanted to take advantage of the team's freshness to put some distance and it was nice to sit at 23-25km/h. George noticed that YC's rear tire was getting soft and losing air but we pushed on.
The team was however stretched out and the opportunity to regroup came when a colorful cafe appeared on our right. It had aircon! It had freshly brewed coffee! It had free ice cold water! Truly another God-sent blessing and we wasted no time to rush in and make our orders, much to the amusement of the staff. Meanwhile, YC overturned his Speed TR to replace his leaking rear tube. Having an IGH meant a bit more effort compared to a normal RD set up but it was no issue for such an accomplished biker.
Pressing on, we rode through some beautiful coastlines and fishing villages. Taking the smaller roads we could interact and see how the locals lived and it was exciting to be able to even cross a narrow bridge that was meant for light traffic.
Pic KC
The busy market after the bridge sold all sorts of goodies and it was interesting to walk around and see what was on offer. We feasted on mangosteens, courtesy of Claudine and had fresh coconuts to quench our thirst.
Pic Sue
Interestingly, a couple of decked up Bangkok tourists were also here, but went around in search of Pokemons. I was however enamored with the many colorful fishing boats all nicely docked, awaiting their next expedition.
Our next exploration target was the Squid Monument and this was just 10 mins ride away. The path that led there was fascinating to ride as it protruded out into the sea for at least 500m. It made for a very windy ride with excellent views on both sides.
While the ride was nice, the monument was a bit disappointing. The weather had taken its toll leaving some parts of the stature damaged. Still, it was nice to be able to be here and we took a group pic together. KC got better at his S pose but unfortunately, the coach was nowhere to be seen.
We cruised into the tourist belt of Cha'am and what amazed me were the rows of shops catering to holiday makers. The beach itself looks good and at low season, somewhat dead. But being here meant we could find a decent place for lunch and we did. VT and I went about exploring some places to eat and settled on an Italian place offering delicious pasta and pizzas.
The Three Faces
was indeed the perfect place. Located just off the main strip, it catered to our needs exceedingly well. We didn't want a full blown meal but something light but also a nice place to hangout. With food and drinks pouring in, and good music from the 70/80s, we really had a lovely time here.
Pics KC
Coming out of Cha'am, we had 30km more to hit Hua Hin and the route required us to ride on the busy highway. It was a good thing it had a broad shoulder but the fast moving traffic was not good company for us. It was also hot with very little shade. The best way forward is to ride fast and it was this stretch that we did our best timing. I was pushing 27-28km/h and hit 30km/h at times on my 16" Bike Friday Tikit. Truly, the capability of this city commuter for touring truly impresses. In fact, everyone did very well here and when we stopped at 7/11 to regroup and drink, we were all amazed at how quickly that section was covered!
Pic KC
Hua Hin is the biggest city on the Gulf of Thailand and has all the frills available. It is also very crowded and is the premier tourist destination for many. That meant too that traffic was quite heavy and busy.
Pic KC
But we didn't mind as we were going to stay just outside the city center. I had made reservations at the White Wood House, a lovely Thai Traditional home which can take up to 10 people and we rented the whole place for about 5000B, low season rate. YC excellent navigation skills got us there without any problems at about 3pm.
One of the things I seek when planning our accommodation is variety and it turned out that the
White Wood House
was perhaps the most suitable and fun place of the trip. It had 3 large bedrooms upstairs that can sleep 10, with a living area.
Downstairs it has 4 bathrooms, yes 4! Also, a large sheltered compound for our bikes with plenty of space for laundry. The kitchen/bar area where we can have drinks and hang out is also very cool. There are also 2 friendly cats and strong wifi. WWH is also located near shops and eateries as well as the famous
Cicada Market
(200m away) which unfortunately for us, opens only on weekends.
As each biker rolled into the house, I could see the glee on the faces. Cold drinks first, then into the rooms to unpack, then shower and laundry. KC and I manage to finish our chores and headed off for a nice Thai Traditional massage just at the back of the house.
It was hard to choose dinner that night as there were quite a few options. The best guarantee of a good dinner is always a flaming wok and we spotted a simple eatery doing fried rice and noodles. Turned out to be the best fried noodles we have ever eaten and cooked by a really cool chef, that looked like he just rolled in on his Harley.
Pic KC
Coffee and desserts were taken at a most beautiful upmarket place called
Wilaiwan
. Just the beautiful building itself is like something that got transported from Europe and the service, ambience, coffee and cakes were most impressive. The Thais have a canny knack for art and design and it shows in so many ways such as this.
It helped too that part of the decor included a bicycle and that really made us feel at home! If you are ever in Hua Hin, this is a must visit place.
We chatted back at WWH till late and somehow, there is a certain synergy when everyone is together instead of being individually in our rooms. At night, the nearby bars were also belting out hits and that is one downside of this beautiful place, but we didn't mind one bit.
It was a real pity that we were to stay here only for one night and WWH is definitely worth a second longer visit.
---------------------------------------------------------------------------------------------------
The next day Aug 11, we learned that 2 bombs exploded in Hua Hin late at night killing one person and injuring 19 people. This was near the Clock Tower, 4.8km from where we were staying. Later on Friday morning, another bomb went off killing 1 wounding 3.This is suspected to be done by the Southern Separatist Movement who normally strike in the Yala area in the deep south.
Bombs went off as well in Phuket, Surat Thani, Phang Nga and Trang. This coincided with the Queen's Birthday and it is very sad that all these are happening in such a peace loving country like Thailand.
Our hearts go out to the victims of these horrible events.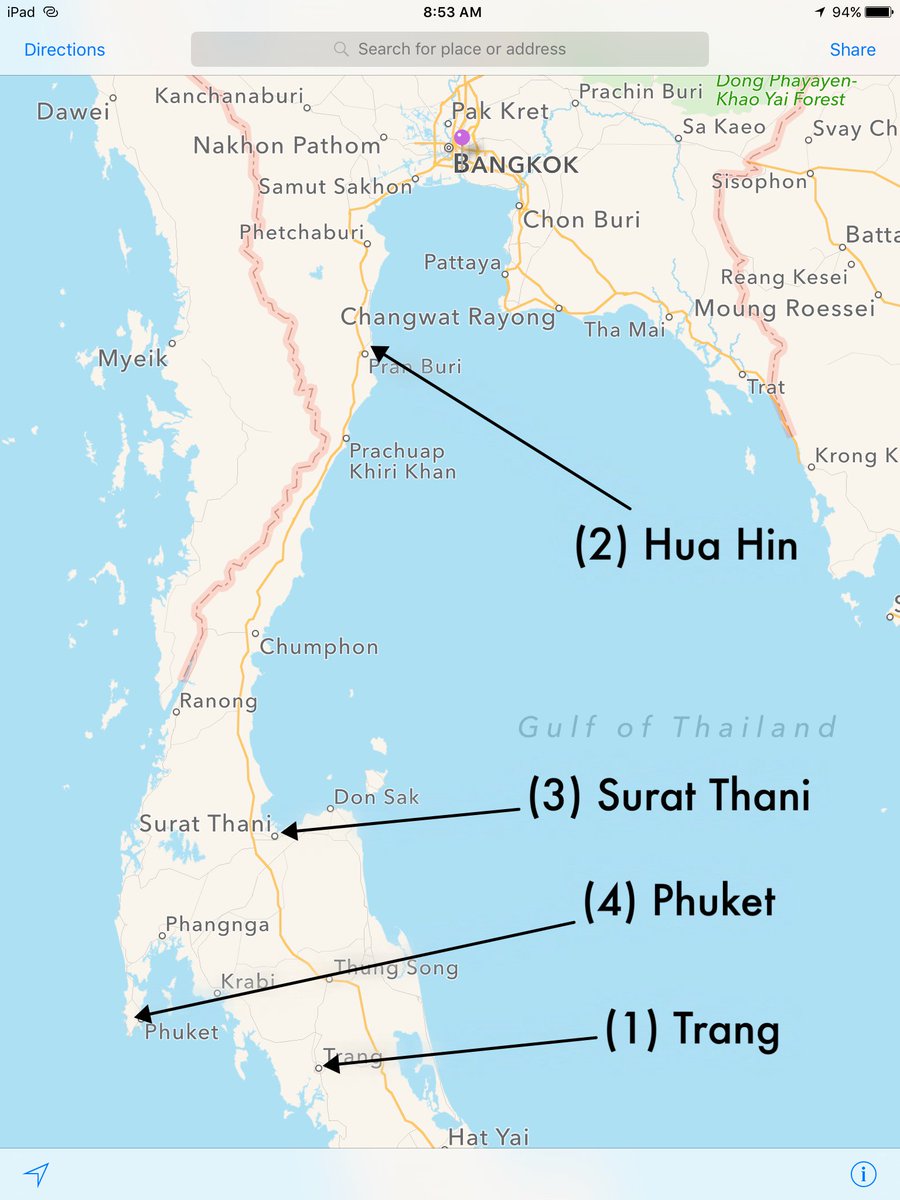 Pic Richard Burrow