Sue, expressing her thanks to the Chef! Pic KC
The Chef's cute baby! Pic KC
Pic KC
Pic KC
I woke up early in time to enjoy the sunrise at the beach. The tide was out. Several fishing boats laid quietly on the sand like dead fish that got caught out of the tide. But it was still beautiful and in a way, life is like that. No matter how low our situation in life is, it can still be beautiful when we know God will bring the tide of hope in again.
Today was an easy morning as we only needed to ride 35km to Prachuap Khiri Khun where we plan to catch the 130pm train down south to Baan Saphan Beach. Time was running out for us so this was necessary and the route from PKK to BS was mostly inland along the highway, which would not be too fun to ride.
We took our time to leave Little Home and enjoyed mingling with a Thai family who was fascinated with our tour.
Pic KC
Looking for breakfast is always a challenge as in the countryside, very few eateries seem to open in the morning. As we rode we spotted some with promise but they were either close or had nothing much to offer. "Keep going! Something will come up!", I encouraged the group as we pedaled on with empty fuel tanks. Claudine was getting desperate and wanted to stop to get some fried bananas and it was then that I asked the Lord to lead us to somewhere nice for breakfast. And just like the miracle of turning water into wine, I was wishfully hoping for a nice Bacon and Egg breakfast.
As the road turned inland and we had to climb a long bypass, I could sense a low tide spirit coming. After all, how long can we go on reserves and we have been cycling for more than 30 mins already? Soon, the 4020 road led to Highway 4 and before us was civilization.
Pic KC
On our right, I spotted an orange colour cafe which looked closed. I went to enquire while YC went around the corner to check out for other possibilities. Lo and behold, this cafe was run by a German guy married to a Thai and I asked if he could do Bacon and Eggs for us, and he said, "No problem!" I could not believe my ears and told everyone to come into this amazing cafe, Coffee by Ban Lek. What's more, a bicycle mural on the wall really made us feel at home and my heart burst into thanksgiving at another answered prayer!
Everyone was really happy and enjoyed a satisfying breakfast and more! Orders were made for more toast and it came presented so artistically with delicious homemade strawberry jam and thick slaps of creamy butter.
We took our time here as it was such a warm and inviting place and we had time to spare, only 25km left and we had 3 hours. Cycling along the busy Highway 4 was no fun but it had to be done. Though there was a nice lane for bicycles, it was not the same as cycling on quiet country roads. We regrouped just before turning towards the coast again as YC led us off the Highway and into the smaller roads which we appreciated.
The quieter road we rode on was so deserted and KC suggested that we rode 8 abreast and it was great fun. The weather was kind with cloudy skies and it was amazing to do this safely!
pic KC
We soon arrived at Khan Kradal Train Station where we had a drink stop. The lady managing the store was also running a hair saloon and was busy fixing a customers hair. So it was DIY time for us to fix our drinks and we didn't mind it one bit.
Pic KC
The last 10km to PKK was absolutely beautiful as we hug the coastline once more. It was wonderful that I had a power-assisted ride from a motorcycle tuk tuk and the rider was only just a young teenager.
Pic KC
As we entered the beach area of PKK, this was where it really got seriously breathtaking. With golden beaches and Karst hills, it was so special to be here and we stopped at the bridge to soak in this wonderful moment. 2 men were fishing from the bridge throwing their nets into the water and it was fascinating to see their skill.
Pic KC
Prachuap Khiri Khun is probably the prettiest coastal town on this coast and it was a real pity that we were not staying over night. So much beauty here and I like especially the long jetty and the natural sandy bays. I will certainly come back here and explore this place again.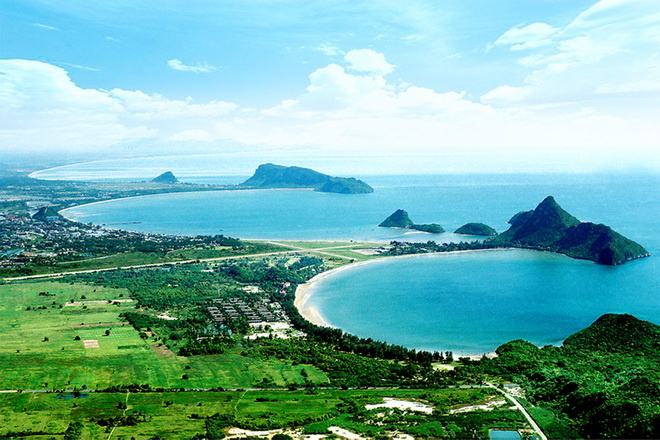 Pic Ithaka Travel
George and YC went to the train station to check out our tickets to Baan Saphan while the rest of us hung around the jetty area enjoying some fruits. They returned with big grins on their face. It was an unbelievable 16B or 60 cents for the 90km ride albeit in 3rd class carriages.
With 90 mins to spare, we had plenty of time for some lunch and we decided on a crowded eatery that served seafood noodles. That was so good especially washed down by fresh lemon juice. Once again, we were received with so much warmth and hospitality and such is the amazing kindness of the Thai people.
PKK Train Station was a little bit bigger than the ones we saw and was very well maintained. Painting works were in progress. The ticket officer was a really nice and helpful guy that spoke good English and I took the opportunity to buy our overnight train tickets back from Chumphon to Butterworth as well. That was 970B or just under $40 for a sleeper and it was a pity we could not get the lower bunk. VT suggested we get another spare bunk just to store our foldies and that was a brilliant idea.
Meanwhile, everyone was busy packing the foldies into travelling bags and it is here that I really appreciate my Bike Friday Tikit's super fast 5 sec fold. Indeed, travelling with foldies and multi-modal transporting is truly the way to go!
When the 130pm train finally came, we broke into 2 teams for easier access into the compartments. This being the Queen's Birthday, the train was full and we had standing room only. YC's team in the rear was fortunate to meet up with 85 Thai cyclists who was on their way down to Chumphon and they got along like a house on fire. Sue and Claudine in that hour, got more people to join their
Asia Cycling Network Club
on Facebook than they did for the whole year.
Pic Claudine
I was with George, Wendy and KC and we had to stand for the most time with the local folks all squished in. But for 60 cents, we could not complain. However what was annoying was the constant comings and goings of vendors selling drinks and snacks, and they had to squeeze past us. But heh, they have to make a living and I respect that.
When we finally arrived at Baan Saphan 1.5 hrs later, we got out happily! We could breathe again. It was nice to be in the open and free once more. We took our time to assemble our foldies and I was so pleased to be welcomed by a very cute little dog at the train station. While waiting for the rest, I played with this friendly pup and dogs are so special.
First order of the day was to get some refreshments and we found a lovely cafe that served fries and drinks. That got us going and we went in search for a place to stay. We enquired at the Ladawan Boutique Hotel and I nearly fell off the chair when the receptionist was happy to give me 4 rooms at an incredible 500B or US$14 each. Though the hotel was a bit old and the airconditioning system was from the 70s, it was clean, cool and spacious, located just by the beach. We could not be happier! Our bikes too had special VIP parking.
One added bonus is having an absolutely upmarket seafood restaurant just opposite Ladawan which YC went to check out. They got us a table just by the sea and with soft lighting, warm ambience and divine spicy Thai dishes, we were truly in heaven.
Pic KC
This restaurant also has a cafe attached and I was amused at its secret for brewing special drinks...
Some of us felt a little guilty about taking the train to Baan Saphan but it was nothing to feel guilty about. We contributed a little to the National Railways, experienced how the locals would travel, skipped a boring section of highway riding, made new cycling friends and most of all, put our travel back on schedule. O yes, and I met the cutest dog ever!
All for the price of 16B, I think today was indeed a very memorable day of our adventure!
------------------------------------------------------------------------------------------------------------
The bravery of the Thai Air Force personnel in defending Prachuap Khiri Khan is something worth reading. When the Japanese Army landed on 8 Dec 1941 on the beaches of PKK, the air force crew mounted an effective resistance to the invaders using just 6 heavy and 2 light machine guns.
The Thai lost 38 and suffered 27 injured but they managed to kill more than 200 and wound over 300 Japanese soldiers.
Pic Readma.com